Conference Sponsors
Sponsors
Edgenuity provides online and blended learning solutions for students in grades K-12 including core and credit recovery courses, intervention and test readiness programs, virtual instruction, and professional development. Our solutions propel student success, empower teachers to deliver effective instruction, and enable schools to meet their academic goals. Learn more at Edgenuity.com.
MasteryConnect is an innovate curriculum, planning, and assessment platform that allows teachers to personalize learning for students. MasteryConnect is a Utah-based company, started in 2009 by a principal in Jordan School District. Our focus is on helping educators use data to help their students grow.
---
SUU
Southern Utah University is a caring campus community where students come to explore their interests and prepare for meaningful careers and life experiences. With more than 140 undergraduate and 19 graduate programs across six academic colleges, SUU proudly offers world-class, project-based learning opportunities where students gain professional experience before entering the job market.
Located in the world's best backyard, SUU is the University of the Parks thanks to its close proximity to several outdoor recreational areas and its educational partnerships with the National Park Service. SUU's safe, residential campus allows students (over 9,000) to create lifelong friendships along with once-in-a-lifetime outdoor adventures in conjunction with innovative academic endeavors.
Shmoop
Shmoop is a digital publishing company whose goal is to take friction out of learning with fun and engaging test prep, online courses, college readiness, and remediation tools. We have over 15 million unique monthly users and license to thousands of schools and districts across the country.
UEA
For more than a century, the Utah Education Association has been dedicated to preserving and enhancing Utah public education. The UEA represents about 18,000 active classroom teachers, retired educators, administrators, licensed educational support personnel and students in education programs at universities.
VisionBound
VisionBound International was founded in 1996 with the mission of "accelerating greatness by releasing human potential."  The company, particularly its founder Kevin R. Miller, has worked with clients in the education, corporate and government level in the United States and internationally.  VisionBound affects lasting change through three lanes: Win Loyal Customers, Provide Inspiring Leaders and Build Winning Teams. Enlightened education leaders today understand the importance of winning loyal customers: students, parents and all stakeholders. VisionBound's programs are custom designed to assist win this loyalty and build strong leadership teams.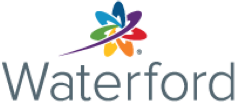 Waterford
Waterford was founded in 1976 by a pioneering educator who believed he could use technology to help promote the academic success of every child. Today, that's still the belief that drives us.